Mt. Pangasugan: Home to Rare Species And Endemic Life Forms
Home to a number of extremely rare species and endemic life forms, Mt. Pangasugan is located north of the west coastal town of Baybay Leyte. Mt. Pangasugan lies at the western boundary of an area that is 150 square kilometer or more, lying on and between the two principal ridges that run North-South down the west coast and the center of the island.

With an elevation of about 1,150 meters above sea level, Mt. Pangasugan is extremely steep, rising from sea level to a distance of about four kilometers. Most of this rise occurs over a distance of two kilometers. Compared with other mountains like Kanlaon of Negros or Kalatungan of Mindandao, Mt. Pangasugan is relatively low mountain. But it is one of the highest peaks of the Central Cordillera of Leyte.
The western side of the mountain is composed of parallel ridges which descend gradually to the narrow alluvial plain. The northern and southern ridges are generally steep giving rise to the young rivers like Pangasugan, Lago-lago and Calbigaa rivers.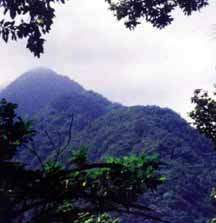 Some of the remaining forests in Leyte region can still be found on the higher elevations and on the slopes of Mt. Pangasugan.
The mountain has one of the few remaining forest in the Philippines which is less disturbed and still provides more or less diverse and varied habitats for "anthropod communities " .
Sources:
Milan, et. al. 1993. Anthropod Abundance and Diversity in Ecosystems of Mt. Pangasugan, Baybay Leyte with Special Reference to the Coleoptera and Hymenoptera Fauna.
Lawrence R. Heaney et al. 1989. Elevational Zonation of Mammals in the Central Philippines.

Journal of Tropical Ecology