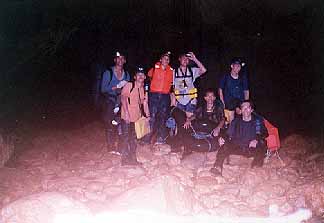 Embarking on daring adventures, plotting mountain expeditions and spelunking in uncharted caves of Leyte-Samar region, Saklang Mountaineers continue to take the lead in blazing trails and discovering pure adventure. Saklang led numerous and successful explorations for the past years - be it crossing the rugged and treacherous mountain ranges of Tres Marias of Biliran, potholing inside uncharted caves of Samar or canyoning in the rapids of Gandara River.
Nature of Saklang

Saklang Mountaineers Inc., (SMI) is a non-profit, non-sectarian, non-political, environmental organization. It advocates on environmental cause dedicated towards maintaining and protecting bio-ecological balance.
Objectives

Saklang Mountaineers Inc (SMI) trains people to become skilled, responsible mountaineers with a deep sense of respect for nature. Saklang assists socio-civic or military agencies in any rescue or relief activities as the calling and need–assistance are in hand. Saklang maintains academic and professional liaison with other bonafide clubs and organizations existing within the University system in responsibility-sharing to achieve local and regional goals of the government.

Principles

Saklang believes that mountaineering is a wholesome and challenging sport. Saklang believes that the protection, rehabilitation and preservation of the natural environment could be made possible if we have an informed and responsible citizenry. Saklang believes that the wanton destruction of rainforests, caves, watersheds and all other resources vital to the maintenance of our ecology done in the pursuit of economic development is not sound and not be tolerated. Saklang strongly affirms and shares other worldwide convictions of and among pro-naturalists and environmentally - concerned individuals and groups that saving planet earth from artificial and wanton human destruction could still be made and worked out.

Policies

It is the policy of the organization to support, help and cooperate with activities that promote mountaineering and all other activities that are pro-environment contingent to and within the University and within the community missions. It is the policy of the organization to make an alliance coordination with other groups that share and have the same or common objectives in the pursuit of the desired goals. It is the policy of the organization that every member should, at all times, maintain and improve the good reputation and integrity of the group. It is the policy of the club not to resort to any form of hazing.