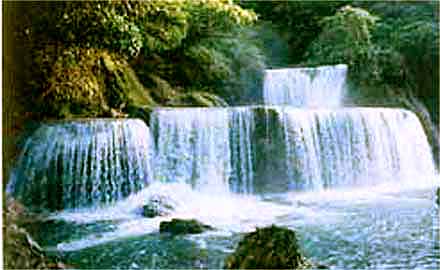 Pinipisakan Falls near the Sulpan Cave system San Jorge, Western Samar. Canyoning towards Gandara river. Perfect swim through the rapids.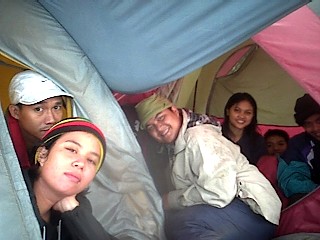 •Saklang scales Alto Peak Summit By: Eleonor
I always believed that the least you expect an unforeseeable event to happen, the more it will likely to become possible. I was always interested to go out with the Saklang Mountaineering Inc. – U.P. Tacloban whenever they have an outdoor activity but now, I am hesitant to move on. This time they will go not only for a fun climb experience but for an exploration climb to Alto Peak where no mountaineering group has ever set foot on....
•Team Conquer-Leyte Park joins 2002 Carera Habagat Adventure Race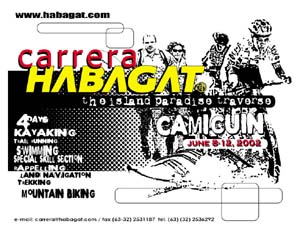 Yet another adventure race in Camiguinread more

• Thanks to all the sponsors
To the sponsors who supported Team Conquer-Leyte Park in the 2002 Carera Habagat Adventure Race held in Camiguin Island , thank you very much...

•More Stories
Mountaineering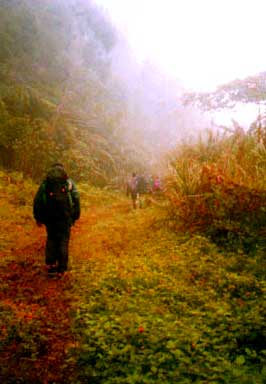 Mountaineering is a form of activity that enables people to express themselves...lets them satisfy an inner need: the need may be to live heroically or to rebel against self-restraints and limitations... an affirmation of the spirit, or it may well be the pleasure of physical fitness and moral energy, elegance of style and calculated daring. It may be the search for an intense aesthetic for exquisite sensations, or for man's never satisfied desire to explore the unknown. Best of all, it should be all these things. -
GIUSTO GERVASUTTI